Zero-Waste Production Our production is as close to zero-waste as possible. All leftover fabric is saved to be recycled into handmade paper.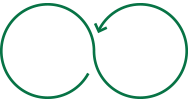 Cradle to Cradle Philosophy Every thread, button, zip, pocket lining are made from carefully picked and sourced eco-friendly materials. Everything we do has to conform to our Cradle to Cradle philosophy.

Life-Cycle Program Because even the most durable pants will wear out eventually, we offer a Life-Cycle Program. Buying back old Nawelo products from customers in exchange for discounts and free shipping lets us recycle even more fabric and reduce waste.